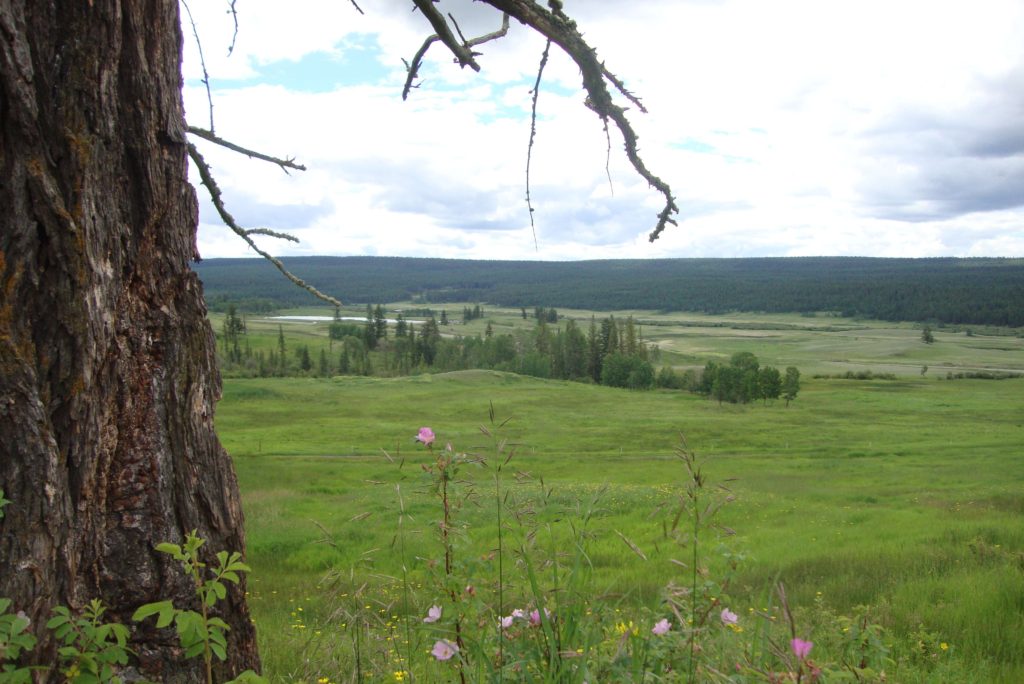 Listing Description
The 144 Mile Ranch is rich in Cariboo history being one of the stopping houses during the Cariboo Gold Rush. During this period this productive ranch land supplied agricultural produce to Barkerville.  Some of the original buildings are still on site and in use.
Located 20 minutes south of the City of Williams Lake via Highway 97.  The property(s) lie in the San Jose River Valley which offers open grass lands and timbered side hills.  Williams Lake is a major trading centre offering full services and shopping.
The small urban fringe community of 150 Mile House is located within 10 minutes of the subject.  There are limited services and shopping available. Highway 97 is a paved schedule 2 highway so has no seasonal legal weight restrictions. Highway 97 intersects the ranch but the fences have 6 gates and an underpass large enough to drive a skidder through.
144 Mile Ranch/San Jose Cattle – as it is presently being operated will run:
200 cow/calf pairs or 300 yearlings for 100 days, or a combination of both.
Presently the ranch has 50 mature bred cows on a lease agreement and arrangements are in place to custom graze 200 yearlings through 2018 grass season.
Seven contiguous deeded titles, containing 1181.76 acres.  These parcels all lie in the San Jose River Valley and the majority of the land is situated on the east side of Highway 97.  There is approximately 750 acres of open grassland/hillsides of which there are 200 acres of productive hayland.  Historically the hay production would range between 2.5 to 3.0 tons per acre.  The remainder of the deeded lands have mature tree cover consisting mostly of good merchantable Fir and some Spruce.  There is a timber cruise, completed by a professional forester, indicating timber volumes of 23,000 cubic meters.
Note: a feasibility wood lot study was done on the timbered areas of the ranch by UBC Research which concluded that an annual timber harvest of 300 cubic meters was sustainable in perpetuity.
There is an attached grazing license- approximately 3484 ha (8600 acres) in area – with a stock allotment for 350 AUM's.
A significant portion of the pastures and hay land are south sloping.

 

These pastures are flood irrigated with ditches and irrigation licences.
The San Jose River Valley enjoys its own unique microclimate with shorter winters and more bare ground than many of the ranches in the Cariboo region.
The majority of the fences are well maintained 4 or 5 strand barbed wire with several miles of high quality high tensile electric fence permanently attached on insulated offsets to accommodate managed intensive grazing.

 

The perimeter fences are all barbed wire.
This ranch has a 50 gpm well on the property that services both houses as well as 6 livestock water troughs that are in key locations on the ranch.
A large heated pump house next to the well with custom manifold design to accommodate 2 pumps in the well.
2 sets of working corrals with year round cattle liner access to the larger set on the west side of the highway.
Weaning and feeding pens with water trough in the lower yard.
Main house – approximately 1500 sq. ft., one story on full basement.  The main floor consists of an open living/dining room with rock fireplace, large master bedroom, en-suite, jetted tub, walkout deck and office/studio adjoining the master bedroom. The main floor has a laundry room, guest bedroom, 3 piece bathroom and a large spa/sun room off the main floor.  The swim spa is functional but not presently in use.   The basement has a one bedroom rental suite, a guest room and a large storage/mechanical room.   There are two more rooms in the basement that were originally another suite but are presently used for a guest bedroom and storage.  The basement has ground level entrance as well as stairs to the main floor.
Heating and cooling of the house is provided by a geo-thermal system and a wood fired boiler heater that can be used to lower heating costs in the winter.
Barn and Blacksmith Shop
Both are Heritage buildings dating to the Cariboo Gold Rush days of the mid 1800's.
The barn has the amazing workmanship of the European builders of the era with dovetail notches and hand adzed beams.  This building has been re-strapped, the rafters extended to protect the outside walls and re-roofed with tin two years ago, the loft has a new floor.  This barn provides good utility and would also offer opportunities for agri-tourism. There are several other heritage buildings in various states of repair, all of them offer good utility.
Rental House
Older, modest quality and condition.
Contact Court Smith to arrange a viewing of this property.

  Share this listing on Facebook