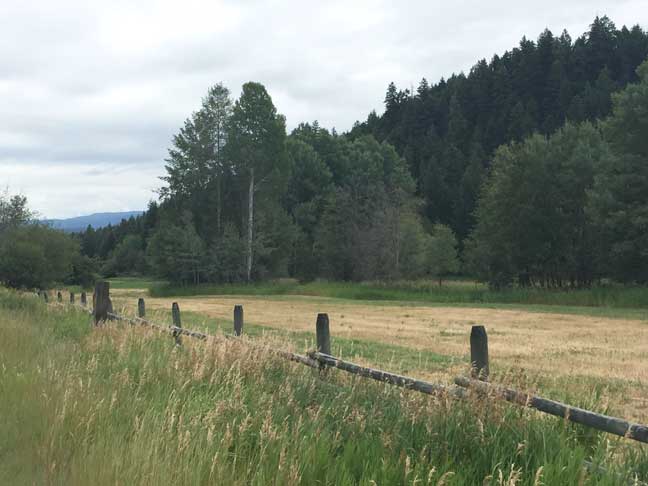 Listing Description
Serenity, Beauty and Location meet at 636 Wrights Road, in Princeton B.C.
On offer for the first time in 40 years. This gorgeous 1,111 acres ranch has 4 titles with a year around creek running through it. The property has 2 homes and 2 yard sites only 5 kms from Princeton.
A great private, pristine setting along the banks of Bromley Creek, with 120 acres irrigated alfalfa/grass hayfields, a mix of open grazing along with mature stands of timber and natural open sub irrigated meadows. The property is fenced and cross fenced for easy movement of livestock. The ranch has a perfect location being ½ km off HWY 3, 2 hours west to Chilliwack Just over 3 hours to downtown Vancouver and 2 hours to the international airport in Kelowna.
The ranch comes with much history as you can find an old homesite at the end of the meadows on the north end of the 800 acres. There are two homes on the ranch, one being a 20 year old 3 bedroom and 2 bathroom home perched up and nestled into the hill behind with a very nice architectural design.  The second home is an old time ranch home, 3 bedroom , 2 bathroom with a great yard site beside one of the beautiful hayfields. The ranch has an older hop roof barn for cattle handling, and a second serviced yard site.
This ranch would suit a mix of a farming operation, a cow calf operation, a great spot to build your dream private ranch retreat or just a great addition to a real estate holding portfolio.
For more information or to set up a viewing please call Tim Terepocki 250 280 7653

Share this listing on Facebook
Area Information:
Princeton (originally Vermilion Forks) is a town in the Similkameen region of southern British Columbia, Canada.[3][4] It lies just east of the Cascade Mountains, which continue south into Washington, Oregon and California. The Tulameen and Similkameen Rivers converge here.[5] At the 2016 census, the population was 2,828.[6]
Princeton centres on seven blocks of businesses along Bridge Street and five blocks on Vermilion Avenue; there are also businesses along British Columbia Highway 3.[7]
Historically, the area's main industry has been mining—copper, gold, coal, and some platinum—The town's biggest employers are Copper Mountain Mine and a sawmill owned by Weyerhaeuser, along with a few smaller timber companies, such as Princeton Wood Preservers and Princeton Post and Rail.[8][5][4
Before European contact, the land around today's Princeton was known among First Nations people as a source of red ochre. Beginning no later than 1846, fur traders, settlers, and miners established trails connecting what was then known as Vermilion Forks to the Pacific Coast of British Columbia. John Fall Allison became, in 1858, the first permanent settler of European ancestry.[4] To this day, the site of his home functions locally as a kilometre zero, with creeks east of Princeton having names like "Five Mile" based on their distance from that location.[7] The town he founded was renamed "Prince Town" (later corrupted to "Princeton") to honour an 1860 visit to eastern Canada by Prince Edward (later King Edward VII).[4]
In the years 1909–1915 the railways arrived, with the Kettle Valley Railway (later Canadian Pacific) connecting Princeton to the Great Northern.[4]
Until 1961, Princeton was home to a brewery, the Princeton Brewing Company. Until the 1940s, the brewery kept its beer cool in the Vermilion Cave. The cave, which held up to 20 railway cars at a time, was largely demolished to make way for the Hope-Princeton Highway, part of the Crowsnest Highway (British Columbia Highway 3).[9]
Princeton joined the Canadian Board of Trade (later Chamber of Commerce) in 1913, and was incorporated as a village in 1951, and as a town in 1978.[7] Beginning in the 1980s, Princeton began to revitalize its downtown, a plan that included red brick sidewalks and new streetlights. In the 1990s, they adopted a "heritage" theme, with many businesses converting their exteriors to match architectural styles from roughly a century earlier.[5] Further landscaping of the town centre continues as of 2008.[7]
The historic Princeton Hotel on Bridge Street, having been in operation since 1912, burned to ground on April 8, 2006.
The name Vermilion Forks survives in the name of Vermilion Forks Indian Reserve No. 1, which is immediately adjacent to the town of Princeton, to the east, and is one of the reserves of the Upper Similkameen Indian Band, whose head offices are in Hedley.